To adjust the speed of the slideshow (faster or slower):
Tap the Menu button. This button can be found in the upper right portion of the Photo Info Screen and the Playlist Screen. It looks like this:
Tap Settings from the drop down menu.
In Settings tap the Slideshow tab. You'll see the Slideshow Interval setting on this screen.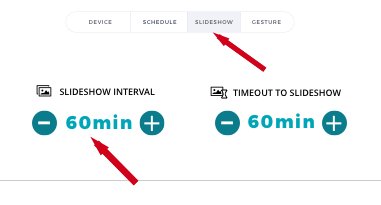 The following video is taken from the 33 second mark of the Slideshow Tutorial Video. It goes through getting to the Settings screen and adjusting the Slideshow settings.
Tags: Time photos are displayed, photo delay, slideshow interval, slide progress, moving pictures, time lapse between photos, time for each photo