Watch the Setup Video
Read the Setup Guide
Thank you for purchasing a PhotoSpring Digital Photo Frame. You've got the most advanced photo frame on the market. This guide will take you through step by step setup.
In the PhotoSpring Box
In the box you should see a PhotoSpring frame, a charging stand and AC charger. Take out them all out. Save the box just in case.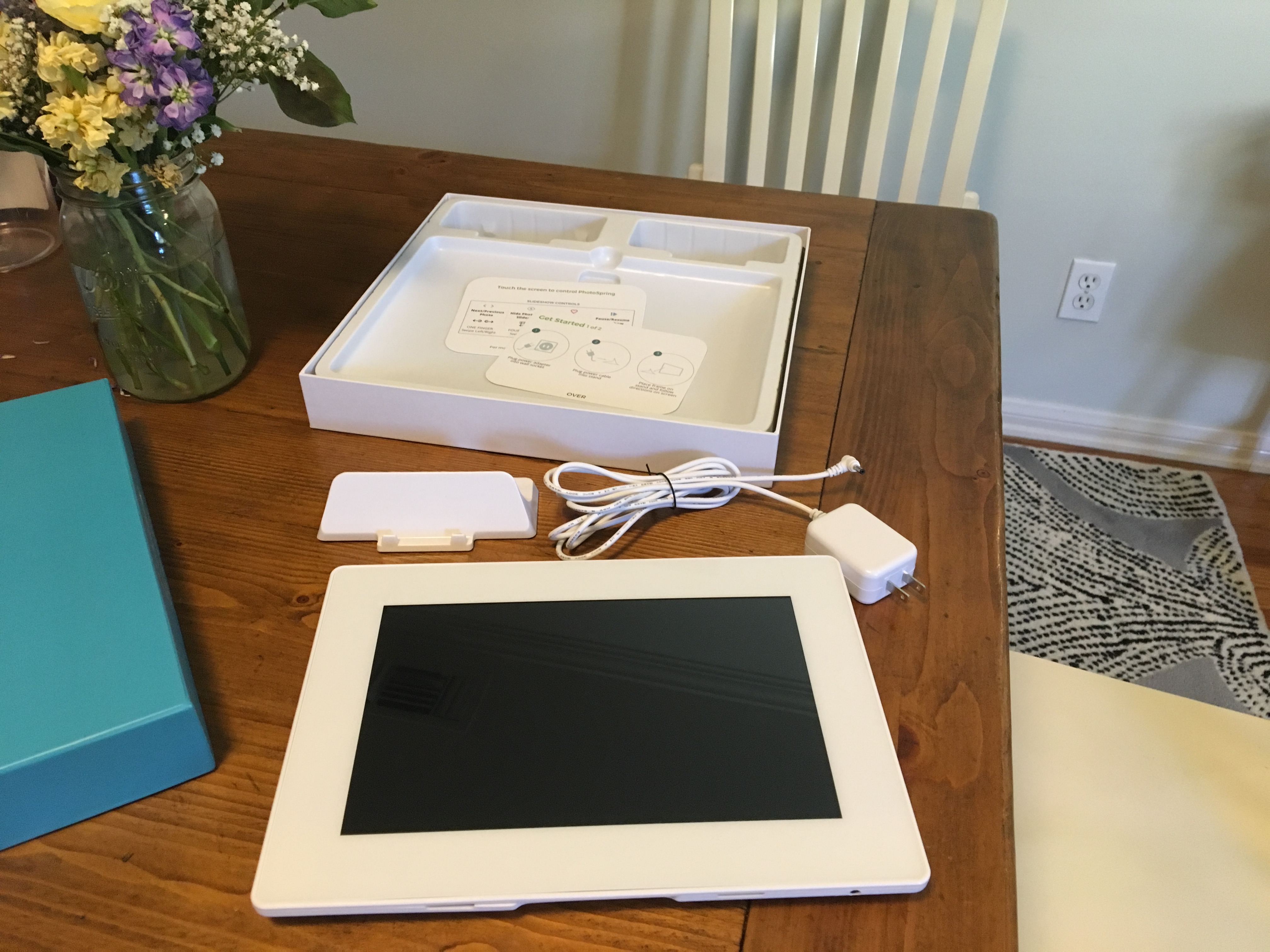 Power up the Frame
First find a place for the frame
It should be:
close to a power outlet
in an area where it can be easily seen
away from glare producing light
Plug the AC Adapter the a power outlet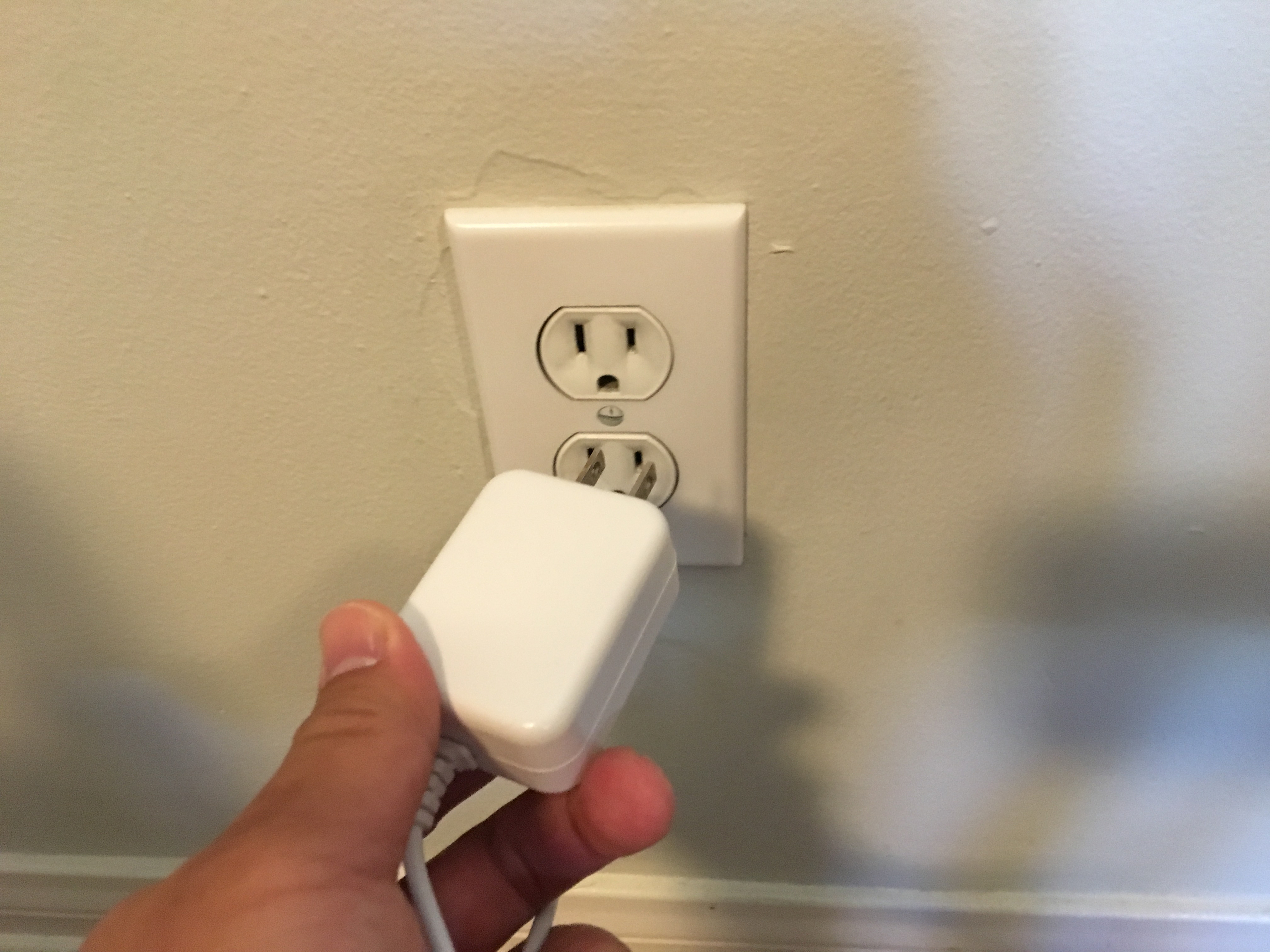 Plug the other end of the AC Adapter into the back of the charging stand.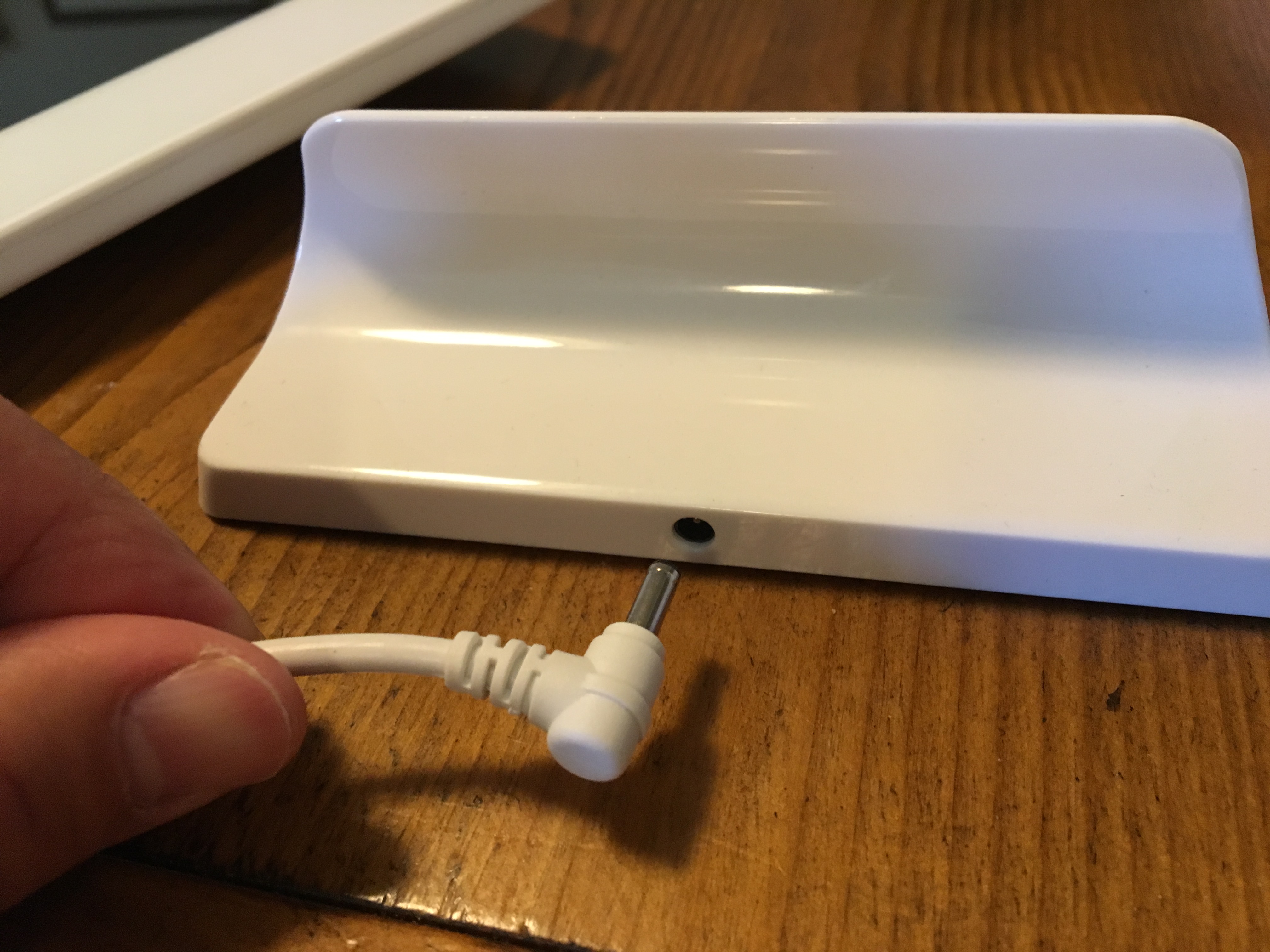 Place the frame onto the charging stand
On the bottom of the frame you should see a set of 4 holes. The middle two holes go onto the charging stand.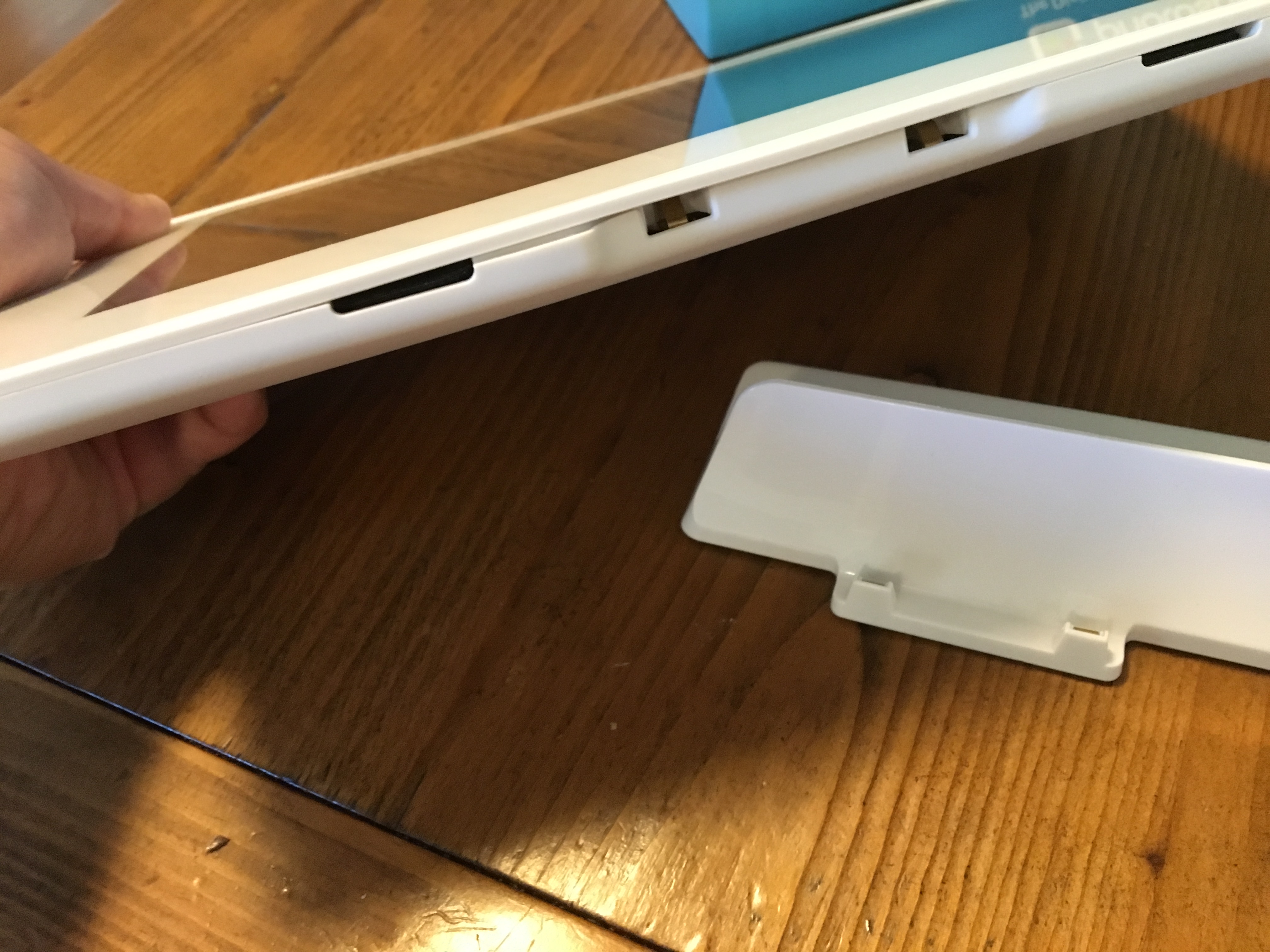 Just place those middle two holes right on top of the corresponding fittings on the charging stand.....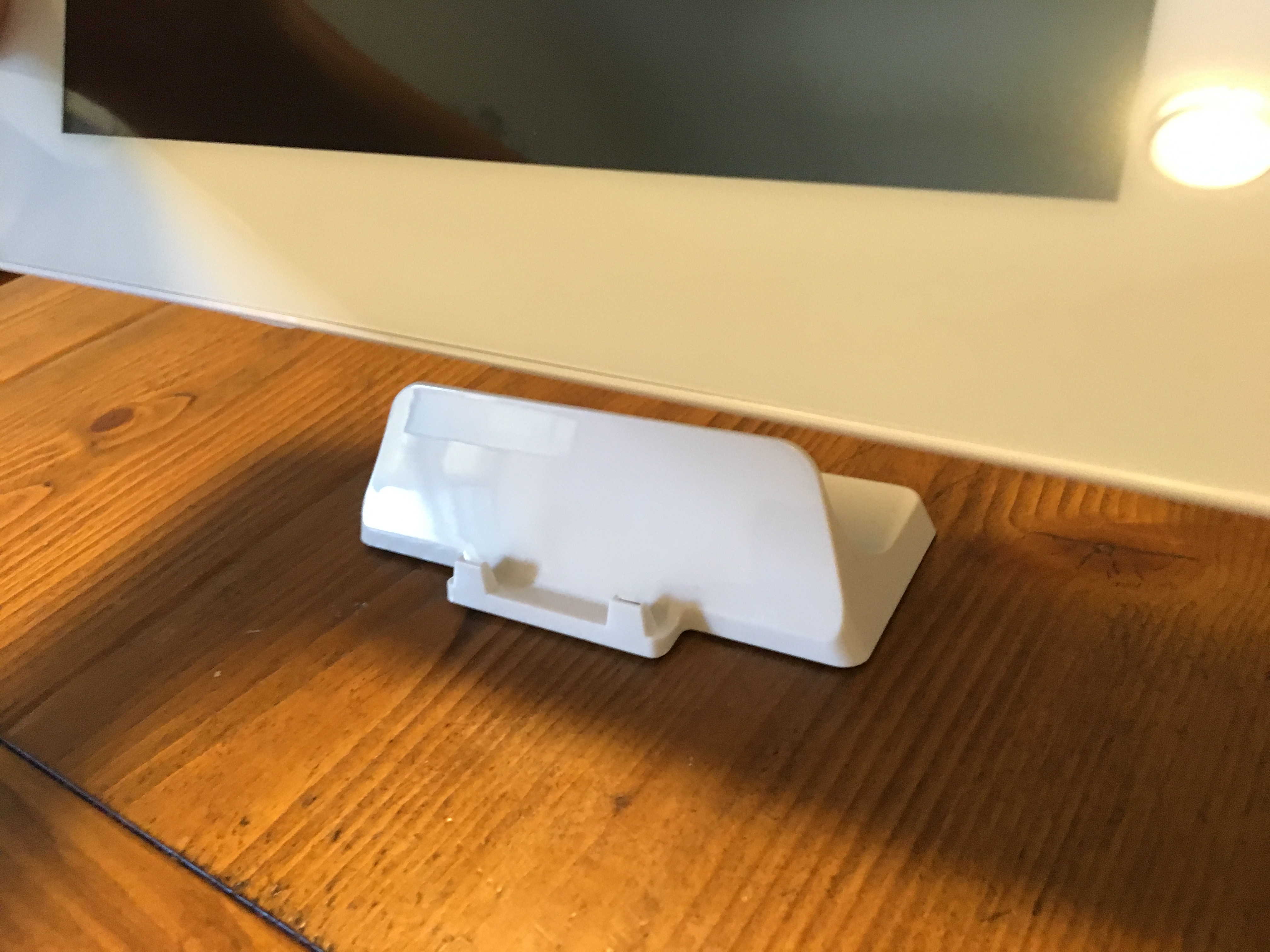 It should fit like you see here: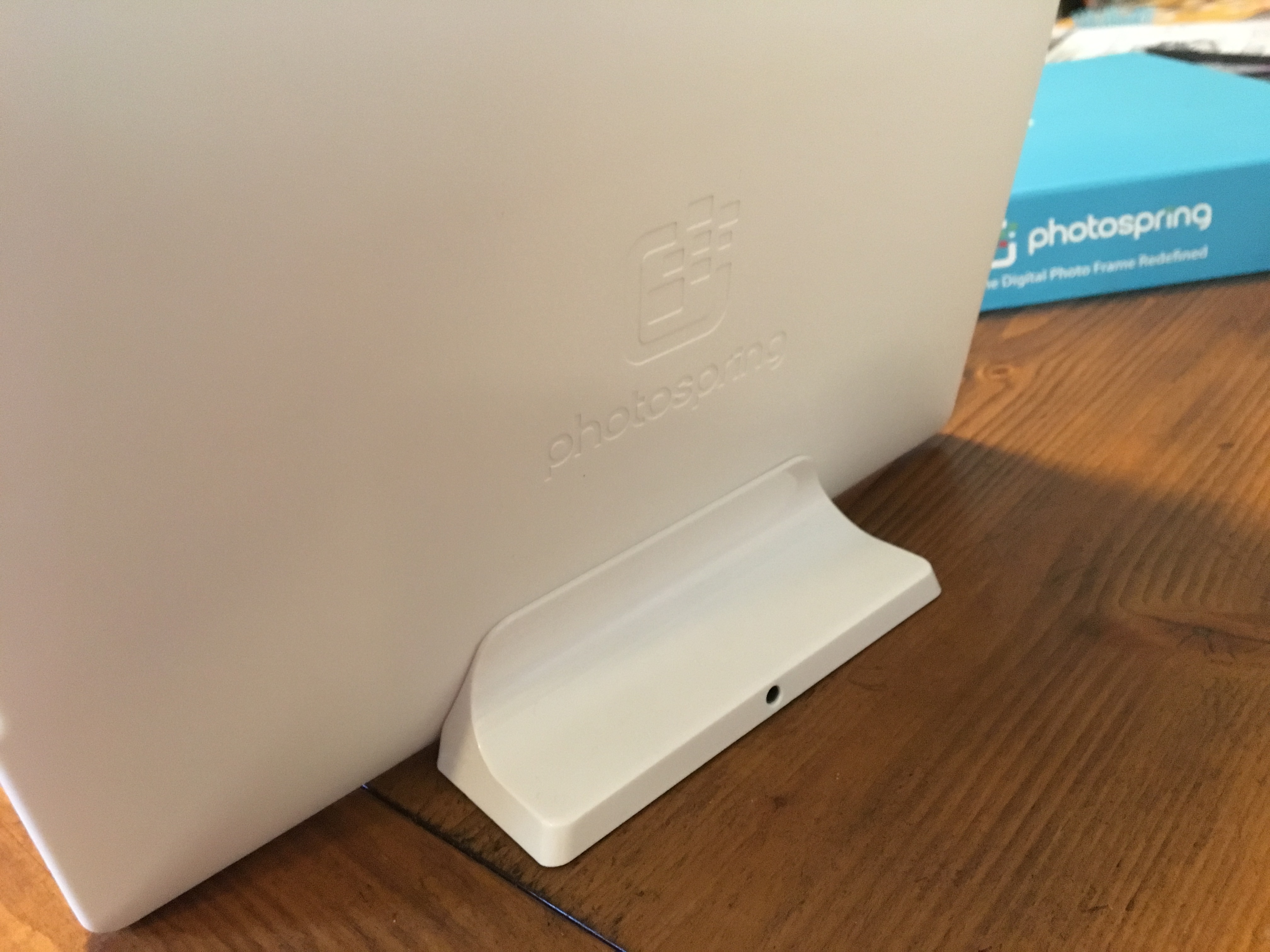 Your frame may power up on its own at this point. If it does, it means you have a frame that will power on whenever it is plugged in.
For frames that don't power up....
If your frame doesn't automatically power up 

 

Press the silver power button on the back of the frame for 5 seconds and release. It may take a few seconds for the PhotoSpring power up animation to begin.

If a battery icon displays while powering up

 

Press the power button again for 5 seconds. It may take a few seconds for the PhotoSpring power up animation to begin.
Note: Your PhotoSpring should come with a partial battery charge. In some cases the battery may be completely empty. If this is the case please charge the frame for a few hours before setting the device up. 
Once powered on, you'll see an animation of the PhotoSpring logo.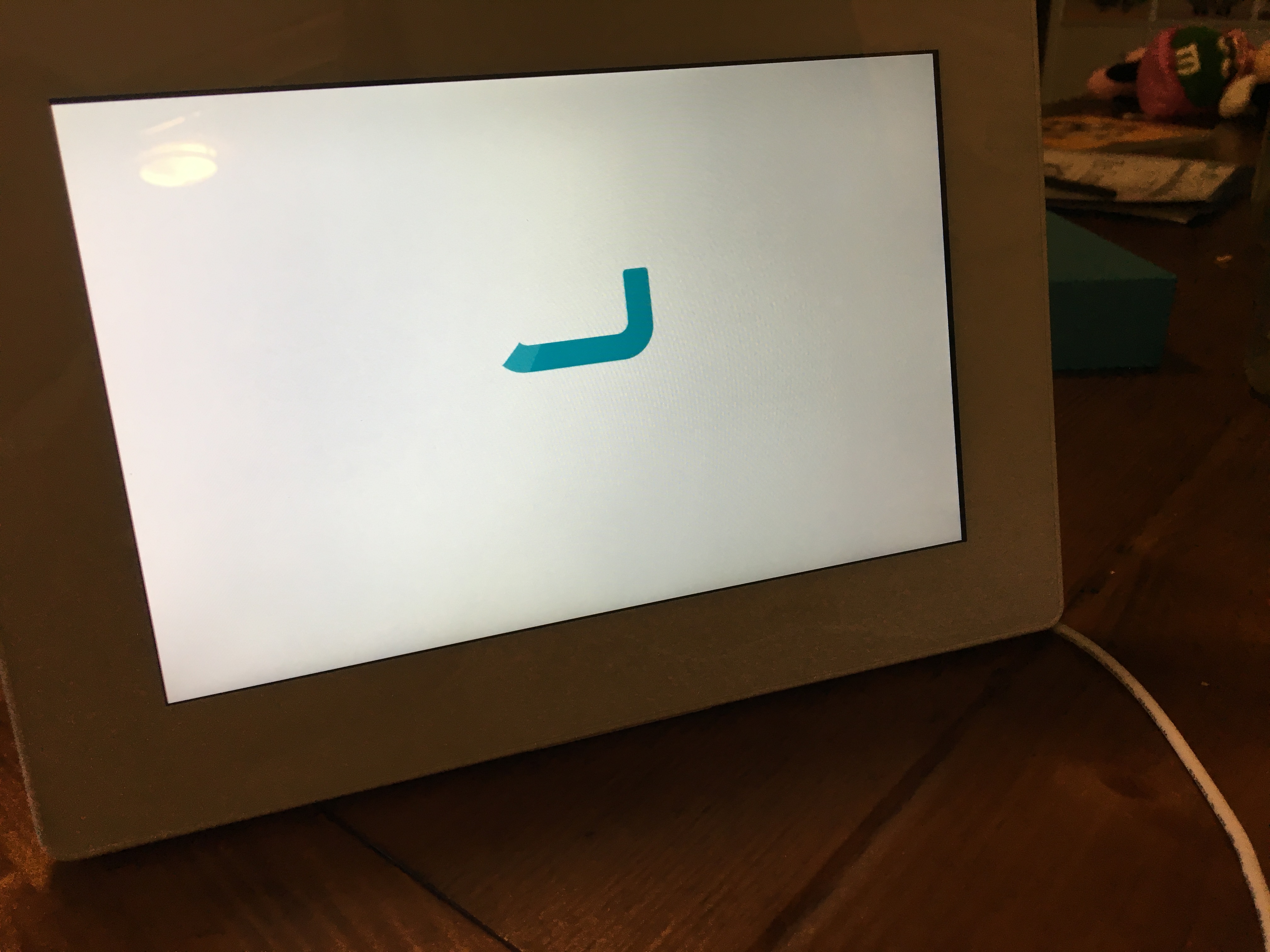 A NOTE ON POWER: On some PhotoSpring frames the frame is designed to power on automatically when plugged in. This means when you press the Power Button to power down the frame, it will immediately turn back on. We recommend using Sleep instead of Power off. If you want to power completely off, unplug the AC Adapter first and then power down.
Go through Setup
Welcome Screen. You can swipe left and right to see some beautiful pictures. When you're ready to start tap on the photo.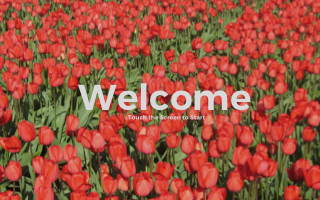 Plug In. If you see the screen below it means your frame is not being powered correctly. Please reseat your frame on the stand and make sure the AC power is connected to the stand and the AC outlet. If you are plugged in the frame will automatically advance to the next step.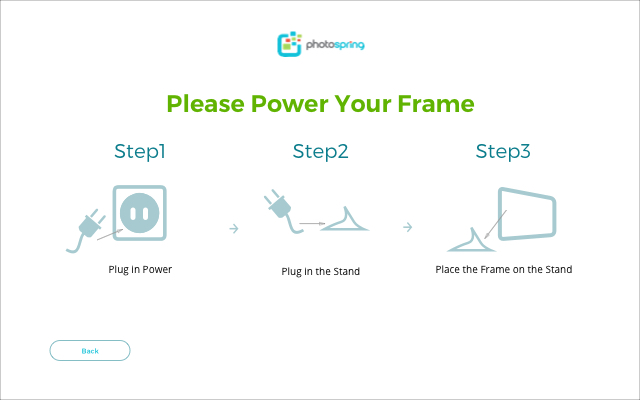 Connect to WiFi.
Tap your wifi network from the list that appears. Enter your password if necessary. If successful you will see a blue dot next to the network you are connected to. The network will also be in bold. Tap Next to continue.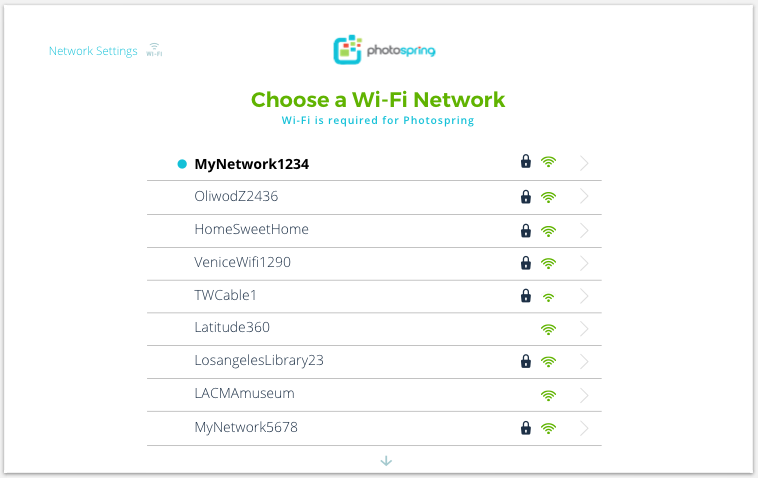 Note: earlier versions of the frame do not support WEP HEX based security. If you have a WiFi SSID set to WEP, its probably better you set it to a more secure WPA based security. If this is not possible, then do your frame setup on another wifi network. The frame will receive an update that fixes this issue and allows it to work on WEP HEX based wifi networks.
Agree to Terms of Service
The frame will download the latest Terms of Service. Accept and continue.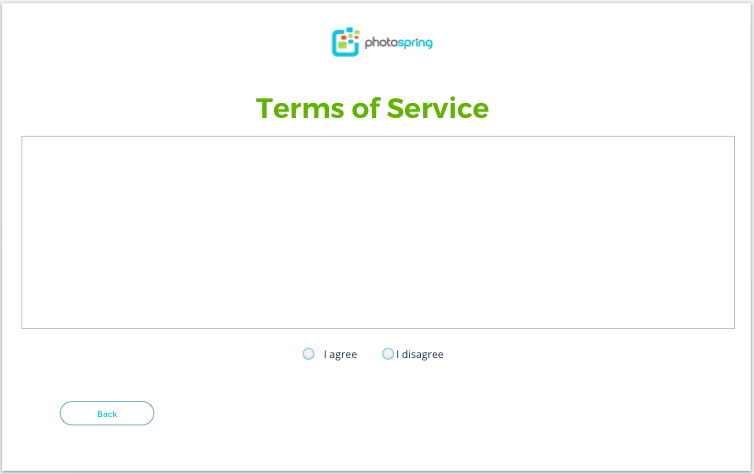 Wait for the Latest Version Download
PhotoSpring will download the latest version of its PhotoFrame software. This is a good time to go get some coffee or call a friend.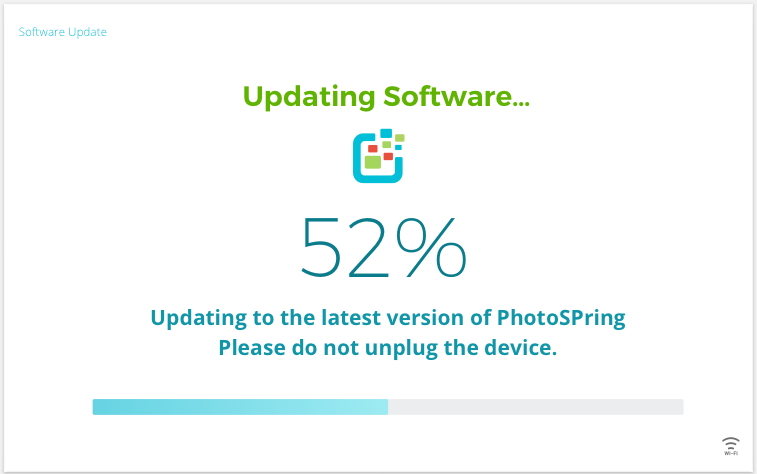 When downloading is done, you can continue by tapping Next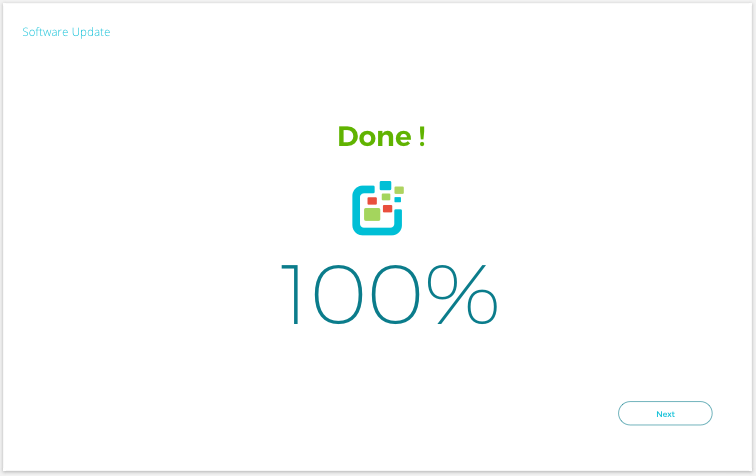 Setting Time
Set the frame to your local time. Most likely the frame will be able to get the local time for you within a few seconds. If not, tap the time and date buttons to edit the time/date.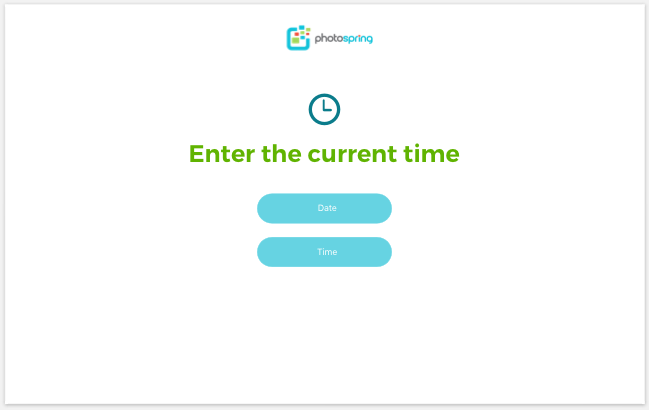 Name the frame
Important to let people sending you photos if this is a private or public setting. Don't worry, you can change this later.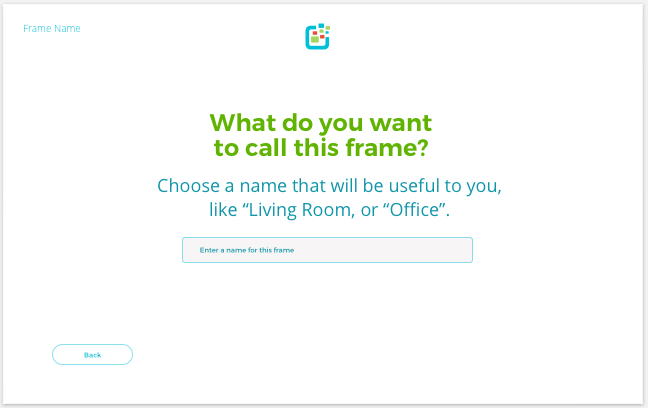 Identify yourself as the owner
When you ask friends and family for photos, its nice for them to know who they are sending photos to.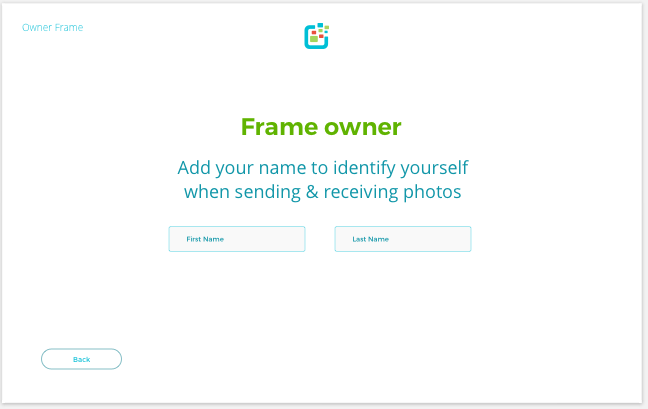 Almost Done!!!
This next screen just gives you a little encouragement. You'll need to setup an account next. We'll walk you through it.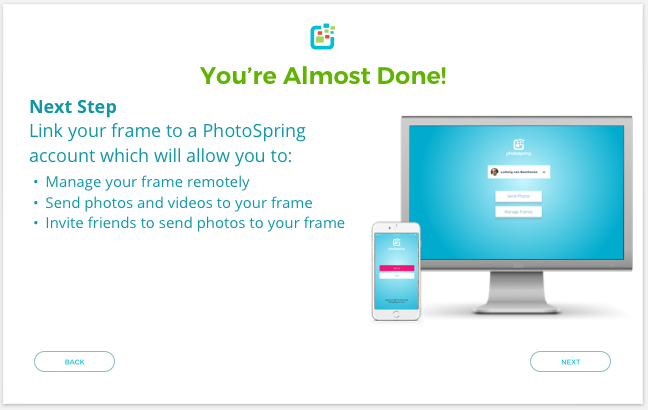 Send an email to yourself to open an account
Type your email in the text box to send yourself a link to open an account. Click Submit.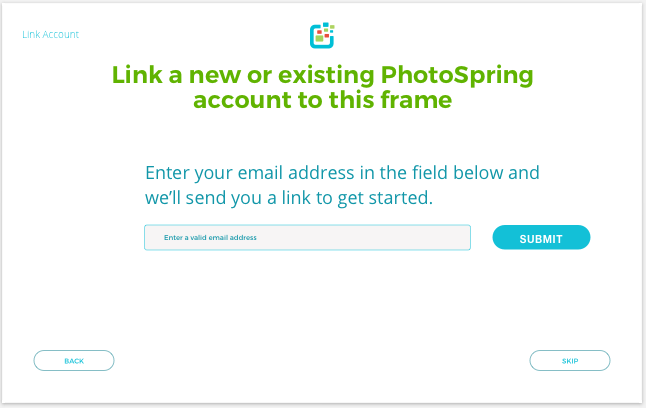 The Frame will wait for you to create an account and connect to it
Check your email for the invitation to create an account and connect to the frame. If the email doesn't arrive check your spam folders. Or check that you used the correct email address with no typos. If none of this works email us at support@photospring.com
Next Step: Create an Account
Click here to go over how to create an account. This will be done through a web page. You can then come back to your frame and finish the frame setup.
If you are successful at creating an account you may be asked to enter a 6 character frame code. It should appear on a screen like you see below. If you are successful at creating an account and connecting it to the frame then this screen will disappear on its own.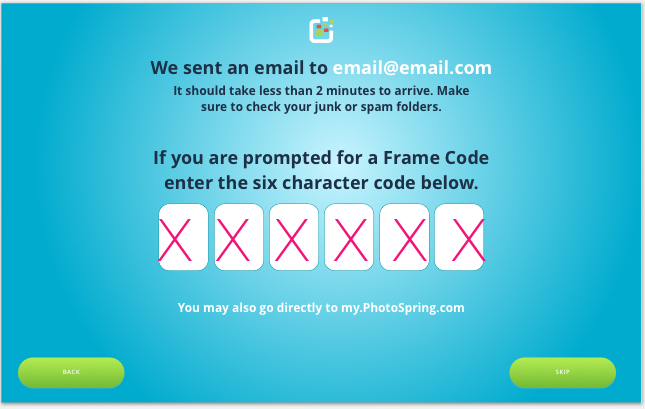 A popup may appear on the frame asking you to grant yourself permission permission.
Check the box - you are the owner. Ownership has privileges.
Allow yourself to send photos to this frame