PhotoSpring is an advanced digital photo frame.
It displays your photos and videos on a 10 inch 1280x800 IPS display
It had two speakers to play sound during video playback
It comes with a charging stand to charge its internal lithium-ion battery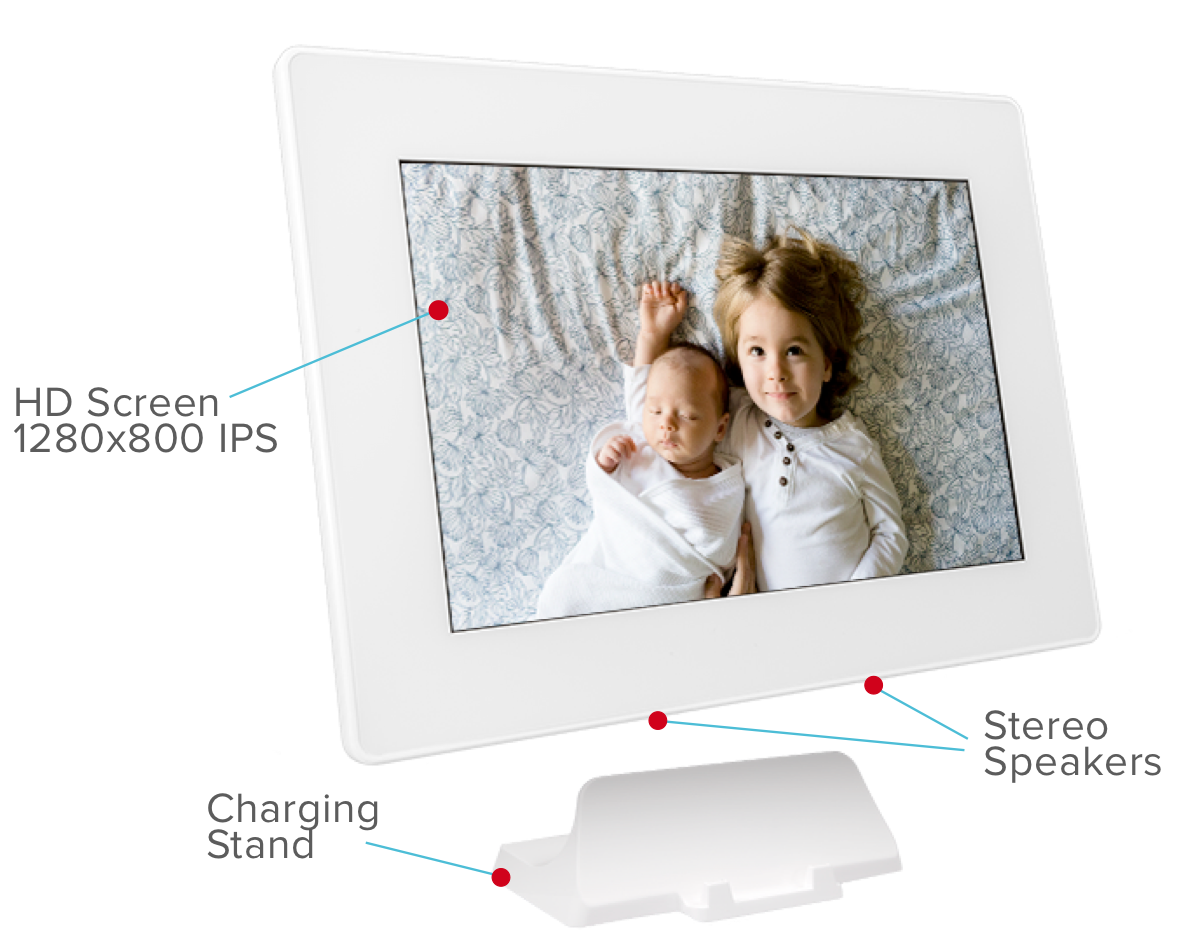 PhotoSpring is also a digital photo album.
It has a touch screen that lets you browse photos and manage the photos displayed on the frame
It has a battery that lasts up to 4 hours on a full charge. You can browse your photos from anywhere.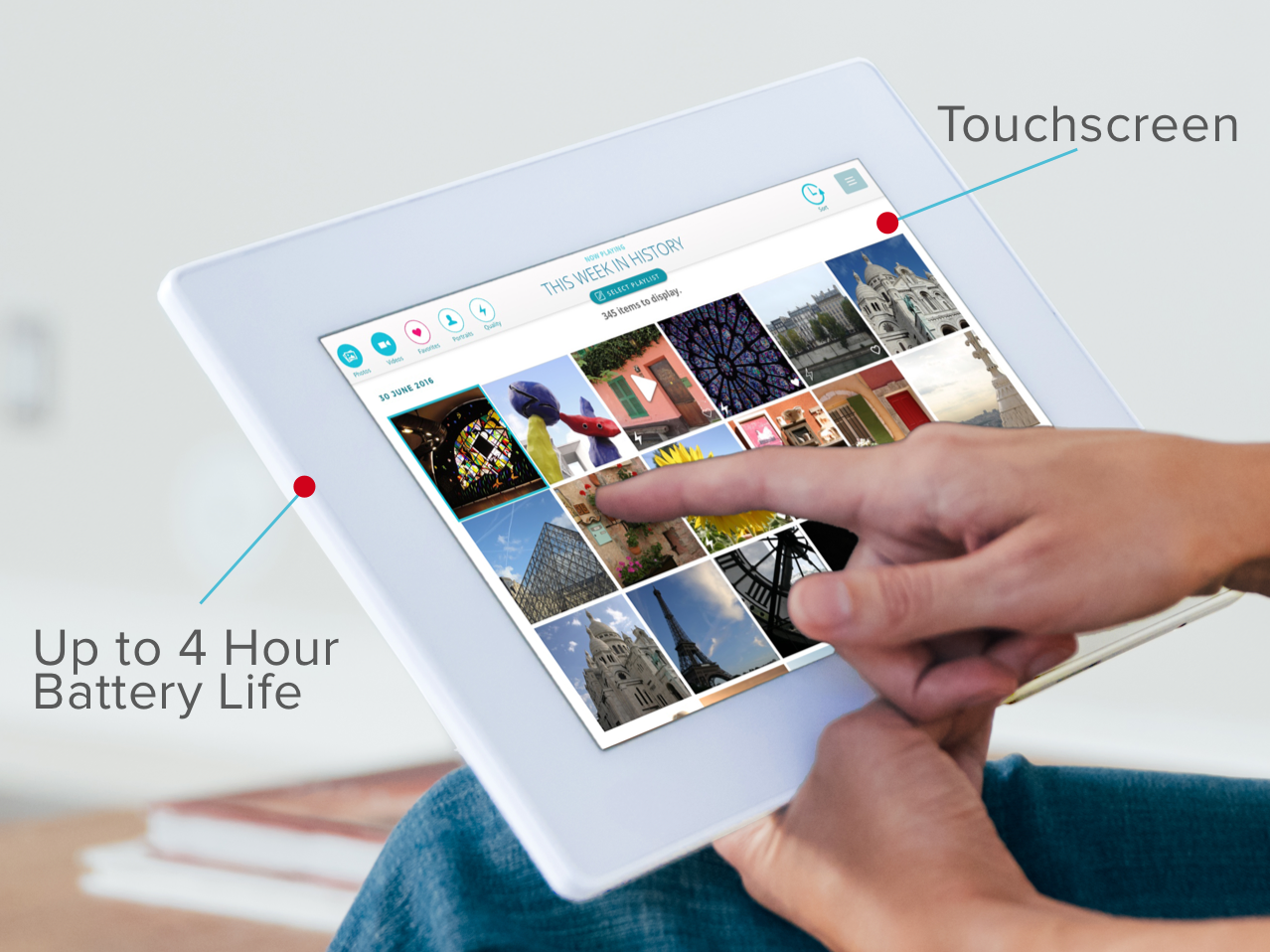 Device Front View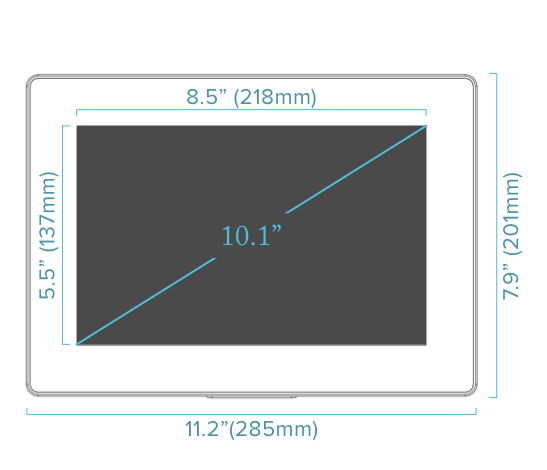 Device Back View
Power Button

Short press power puts the device to sleep or wakes it up. In sleep mode, the frame will cease to receive photos or updates. The frame can run on a Sleep Schedule.
Long press power for 5-8 seconds brings up the Power Off/Reboot dialogue.

A note on Power Off: the PhotoSpring frame was designed to turn on automatically in the event of a power outage. As a result, the device must be unplugged from AC power in order to turn off the power off. Turning the power off while connected to AC power will result in the device coming back on immediately.

Docking the Frame

The frame can be docked in Landscape or Portrait. Note: Portrait mode is currently planned but not available
To dock, place the edge of the device with the docking port into the charging stand. When correctly docked the device will either:

Power on or
Show an on screen battery charge icon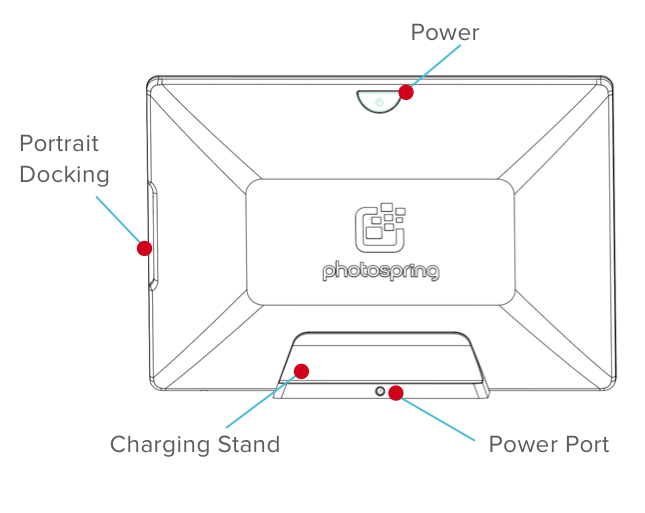 Powering the Frame - the frame can be powered in three ways:
Direct Power: The AC adapter can be connected to a working power outlet and plugged directly into the frame. The frame's power port is located at the bottom edge of the frame.
Charging Stand Power: The AC adapter can be connected to a working power outlet and plugged into the back of the charging stand. When the frame is correctly docked with the charging stand it will receive power.
Battery Mode: When not connected to AC Power, the frame will be in battery mode.