You can enter the Select Items screen by tapping on the

button in the Playlist screen.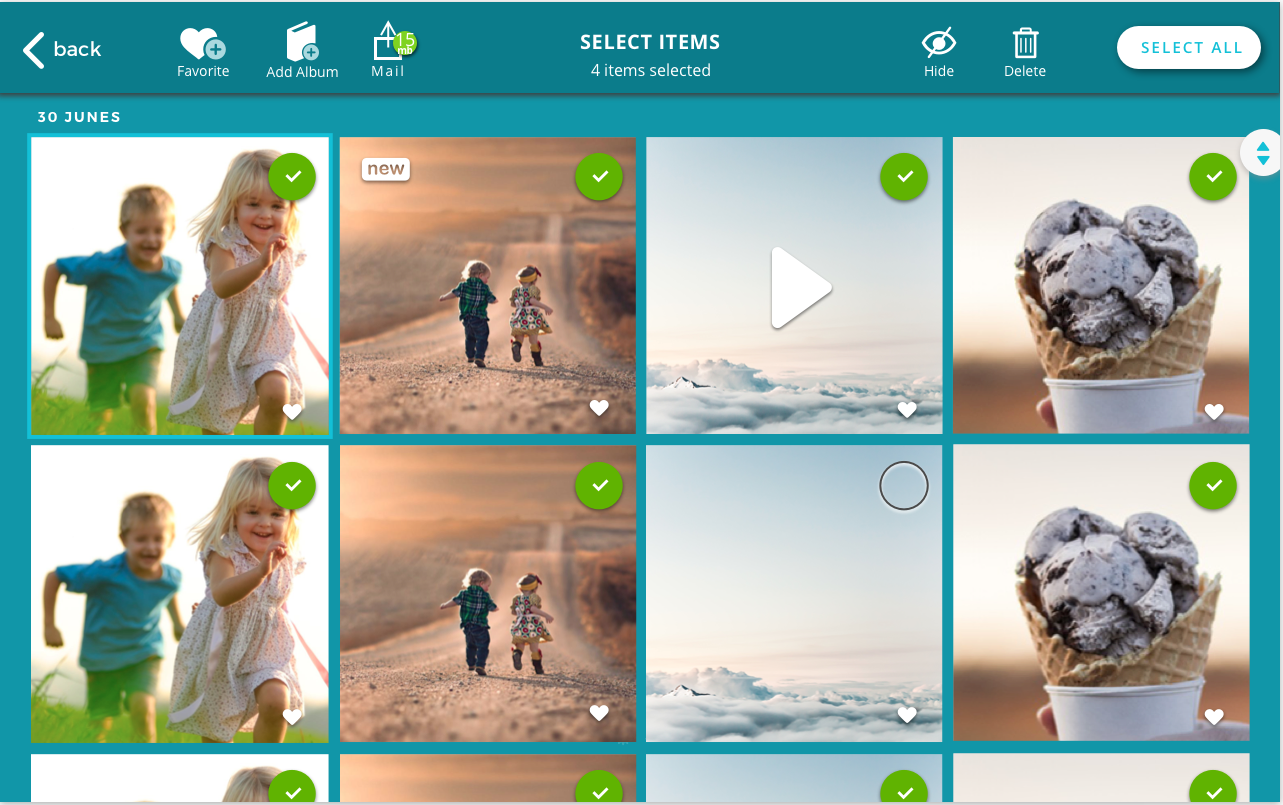 This screen let's you select multiple photos and videos from your current playlist and perform actions on them.
Note: If your playlist has filter settings, they will be reflected here. Example: if you currently have a playlist where you filtered out photos, leaving just video - then it will be reflected in the Select Items screen.
Things you can do from this screen:
| | |
| --- | --- |
| | Back Button - takes you back to the Playlist screen |
| | Add to Favorites Button - after selecting one or more items, tapping this button adds them as favorites. |
| | Add to Album Button - after selecting one or more items, tapping this button let's you add them to an album (existing album or new album). Photos and videos can be members of multiple albums. |
| | Send via Mail Button - select up to 15mb of photos or videos and tap this button to send these items as attachments via email. |
| | Hide Button - after selecting one or more items, tapping this button will remove the items from the playlist and add them to the hidden items playlist. |
| | Delete Button - after selecting one or more items, tapping this button will remove the items from the frame, unless the items are part of a user created album. If the items are part of a user created album it will ask the user to confirm deletion from the frame, or just from the album. |
| | Select/Deselect All Button - Selects all the items in the playlist. Or deselects all the items in the playlist. |
| | Select/Deselect Item Radio Button - tap on a photo thumbnail to select/deselect an item. |
Other screens:
Tags: Bulk, Select, Multiple, Select All, Delete, Add to Album, Hide, Favorite